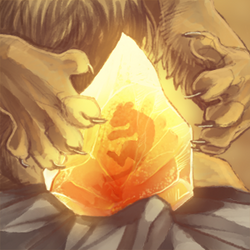 This is a very fancy thing! On the explore page, between the monkey shop and the leaderboards, there is a orange-yellow stone sitting on a glowing red rock. Here, the mystic stone can reveal many things to an up-and-coming king.One of these being the potential appearance of your future cubs. For a small price of 3 beetles per use, the scrying stone can show the user approxamate outcomes for the cubs two lions will have. Remember to enter Male
and
Female ID numbers into the fields or it will not work. Using this helps when figuring out if a breeding will be useful to your clan's look.
Along with potential cubs, the scrying stone can also give the user "a Glimpse of the Future? A moments preview of a cub in the prime of their adult life" Enter the ID of the cub you want to see in the "Cub ID" box and click "Go!" to get a glimpse of the adult look of the cub. This also costs 3 silver beetles per use.
"Or, do you sometimes wonder what might have been? A Glimpse of the Alternate? A moments preview of a lion as the opposite sex?" Here, the ID of an adolecent or older lion or lioness must be entered. The reason being, cubs would not look any different in either gender. When the ID is entered and the user clicks "Go!" a page will open up with a picture that shows the selected lion/lioness as the opposite sex.
Ad blocker interference detected!
Wikia is a free-to-use site that makes money from advertising. We have a modified experience for viewers using ad blockers

Wikia is not accessible if you've made further modifications. Remove the custom ad blocker rule(s) and the page will load as expected.